We welcome you to meet the stallions of Rafter Bar D. . . We have selectively chosen our stallions for excellent dispositions, heart and willingness combined with athletic ability, and eye catching beauty.

(Amberfields Embossedngold x Amberfields Lonesome Dove)
2012 Morgan Stallion  ~  15.3H

+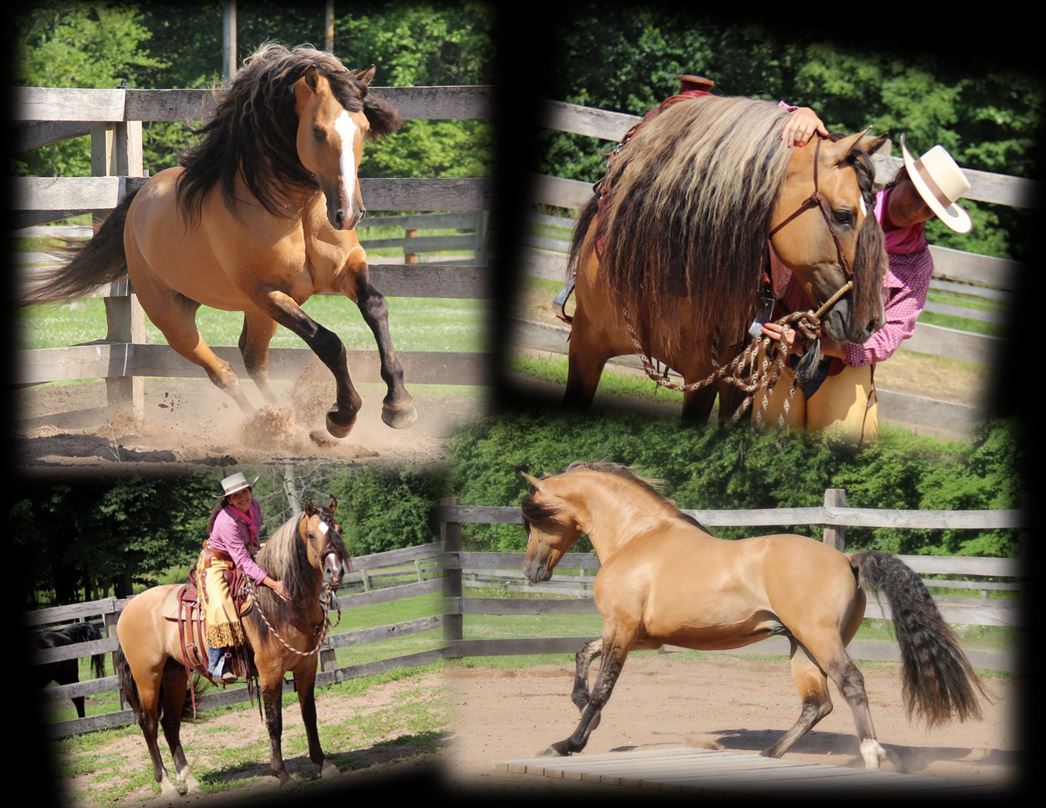 Blaze is one of those "One in a lifetime" stallions that embodies everything we look for in a Morgan. I still look at him and he captivates me, even though I see him every day. He is such a calm minded soul and loves attention.
He is the whole package with a great mind, good solid bone, size with Morgan type, athletic ability to be versatile, the hair gene and a true gentleman. I LOVE this stallion and his foals are amazing. We have 6 foals coming in 2022 by Blaze!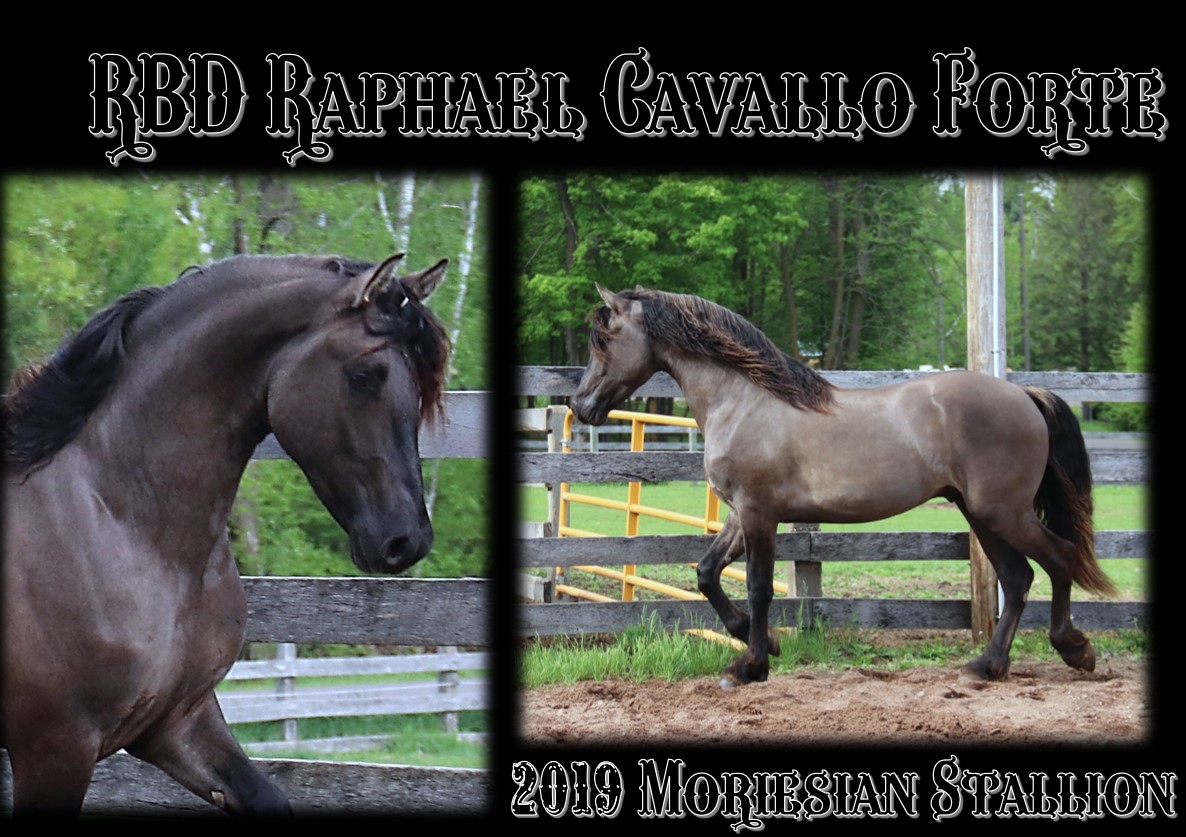 RBD Raphael Cavallo Forte
(Amberfields Blaze N Dun x Marieke fan North Ster)
2019 Grulla Moriesian Stallion
(Morgan x Friesian)
Pictured below at 2 years old.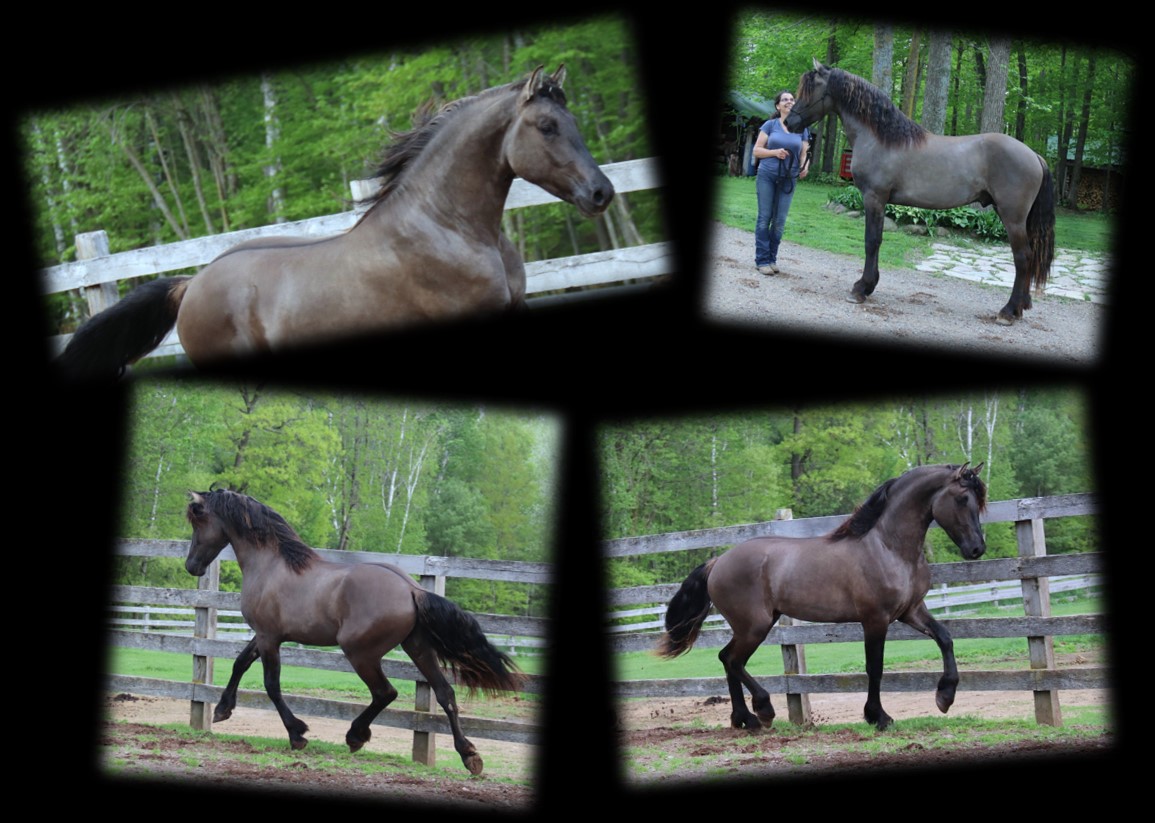 Pictured below at 1 year old.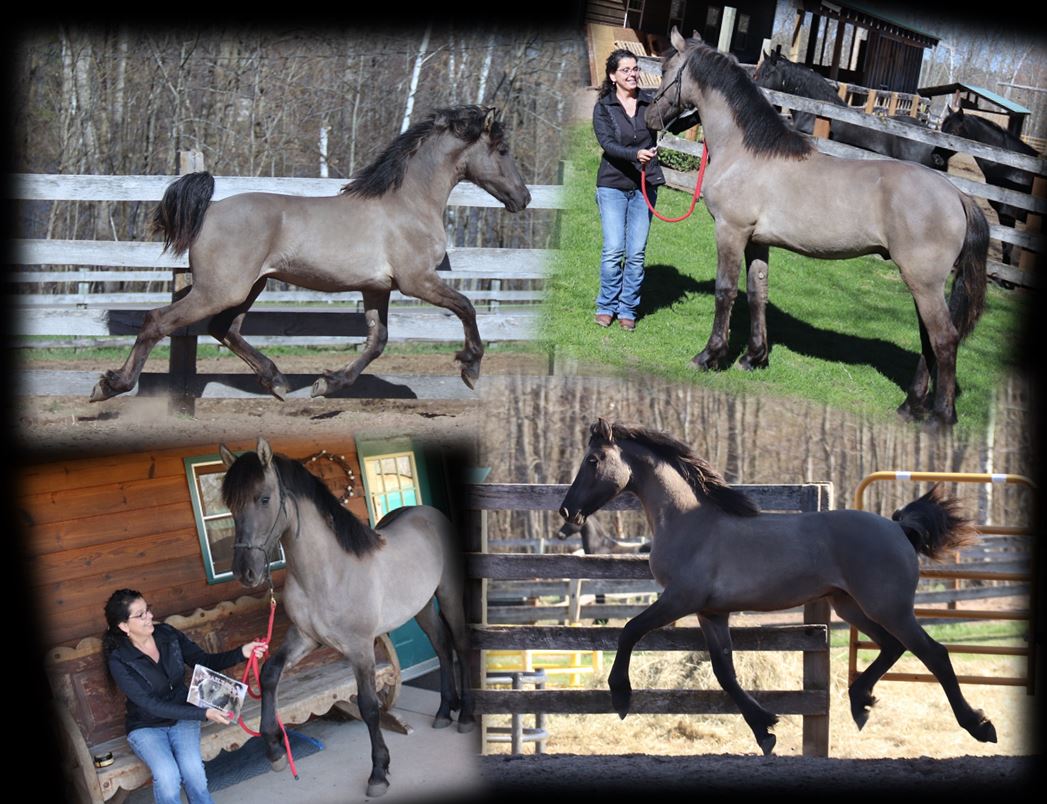 Raphael has a story to tell . . . This beautiful colt was injured at just 4 days old. His left rear lower leg was stepped on and his joint was displaced. He had a surgery where a metal plate and 5 screws were surgically placed. It was a long road to recovery, however, he's doing well and thriving here at Rafter Bar D. I wrote a book about his journey called, Raphael's Story. 
It takes you on a journey to discover that sometimes the unforeseen happens, and with a serious injury comes hope, faith and love to go the distance. I wrote my book in rhymes in hopes that it will warm your heart and inspire your soul.
"A Heartwarming Road to Recovery" for all ages to enjoy.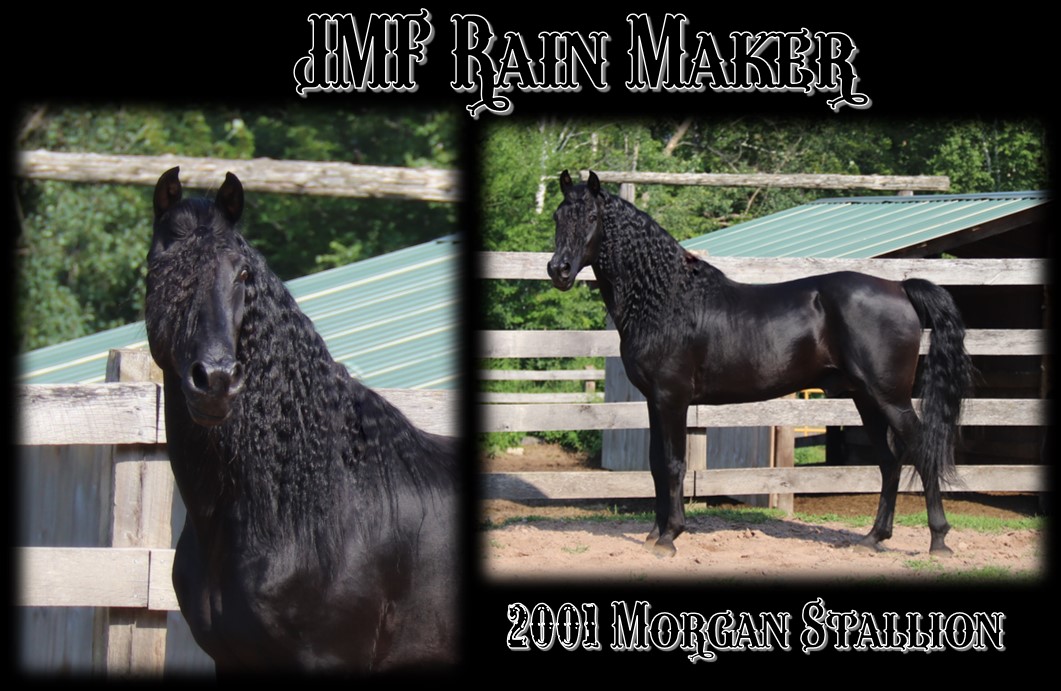 JMF Rain Maker
(Black River Trojan x JMF Royal Desiree)
2001 Morgan Stallion  ~  14.3H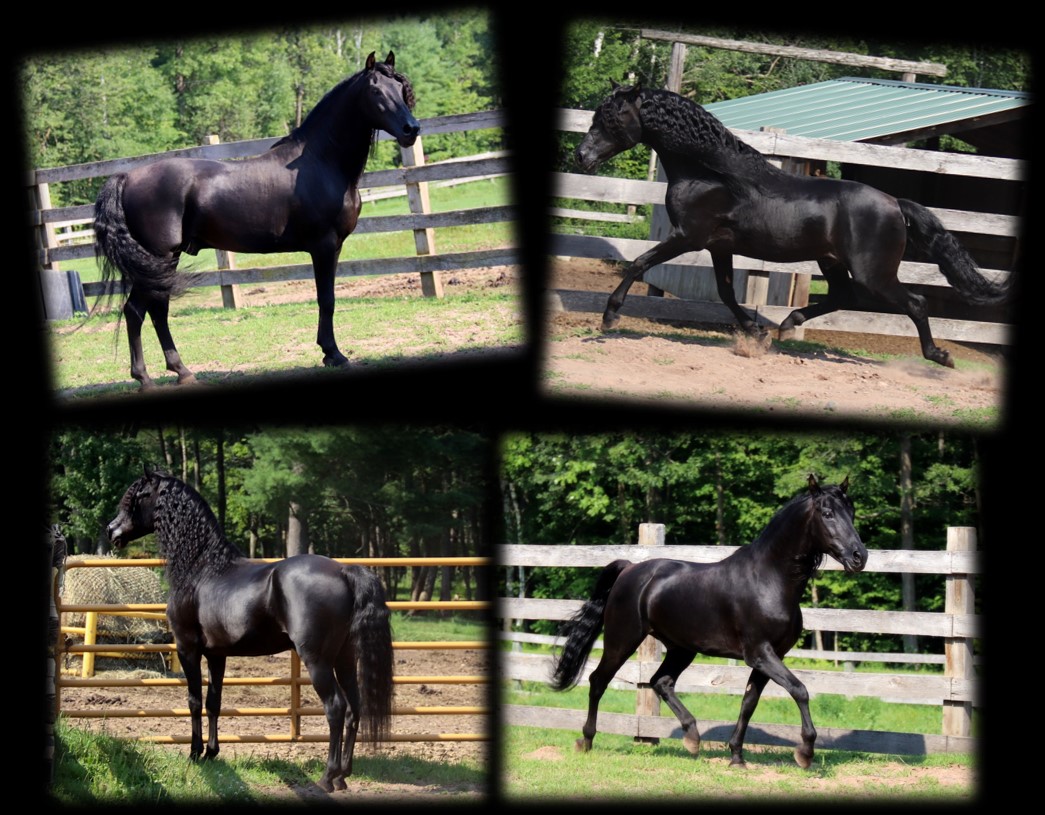 We co-own JMF Rain Maker with our daughter and son-in-law of Bar M Morgans. Maker has been residing here at Rafter Bar D and will be moving over to Bar M Morgans soon. They have bred several mares and are expecting some beautiful Morgan foals by Maker in 2022. Contact McKayla at olsonmck@gmail.com if you have an interest in Maker or his foals as he will stand at Bar M for 2022. We have bred our grulla Moriesian mare for a 2022 Moriesian foal.
Maker is such a cool fella with neat old bloodlines, excellent Morgan type, athletic ability and he sure has the "hair gene". He will produce some beautiful foals for sure!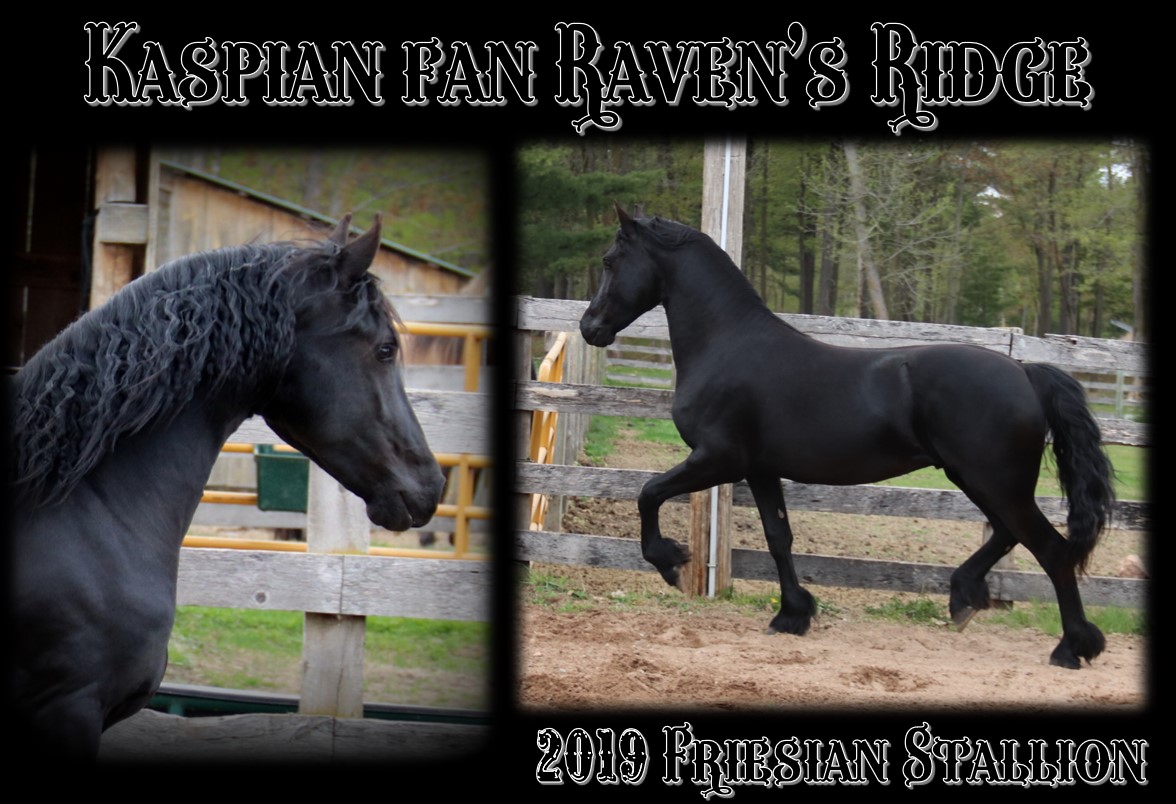 Kaspian fan Raven's Ridge
(Tesla of Sea Chanty Farm by Alert 475 x Izzy by Frans 289)
2019 Purebred Friesian Stallion
Pictured Below at 2 years old.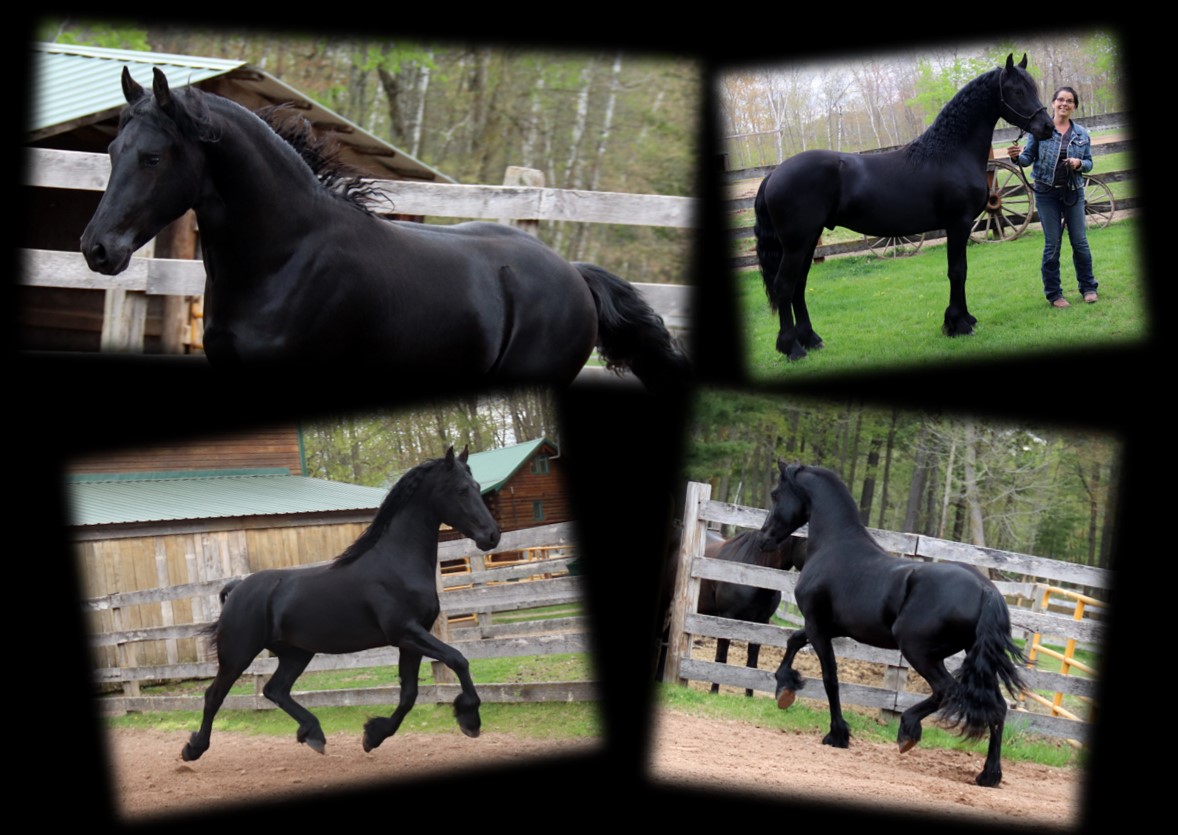 Pictured Below at 1 year old.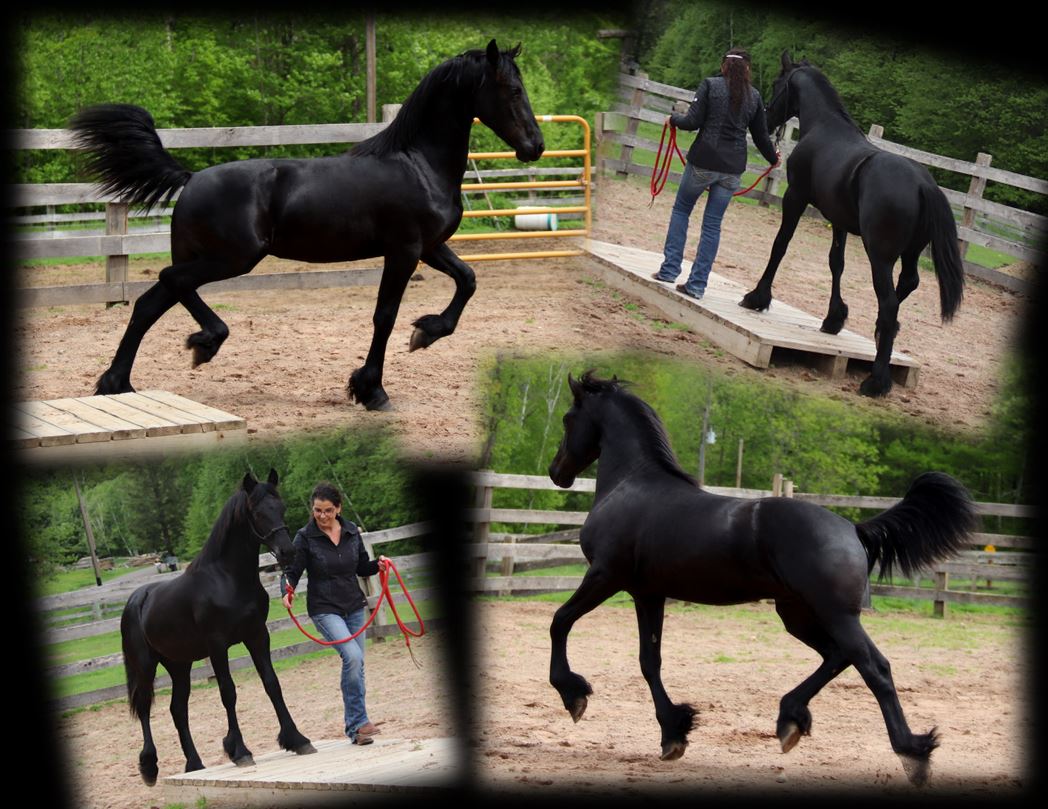 Thank you for stopping by our stallions page. If you are interested in

reserving a foal

by one of our stallions, please sent us an e-mail for more information. We would love to hear from you! 

Visitors to Rafter Bar D from around the world!