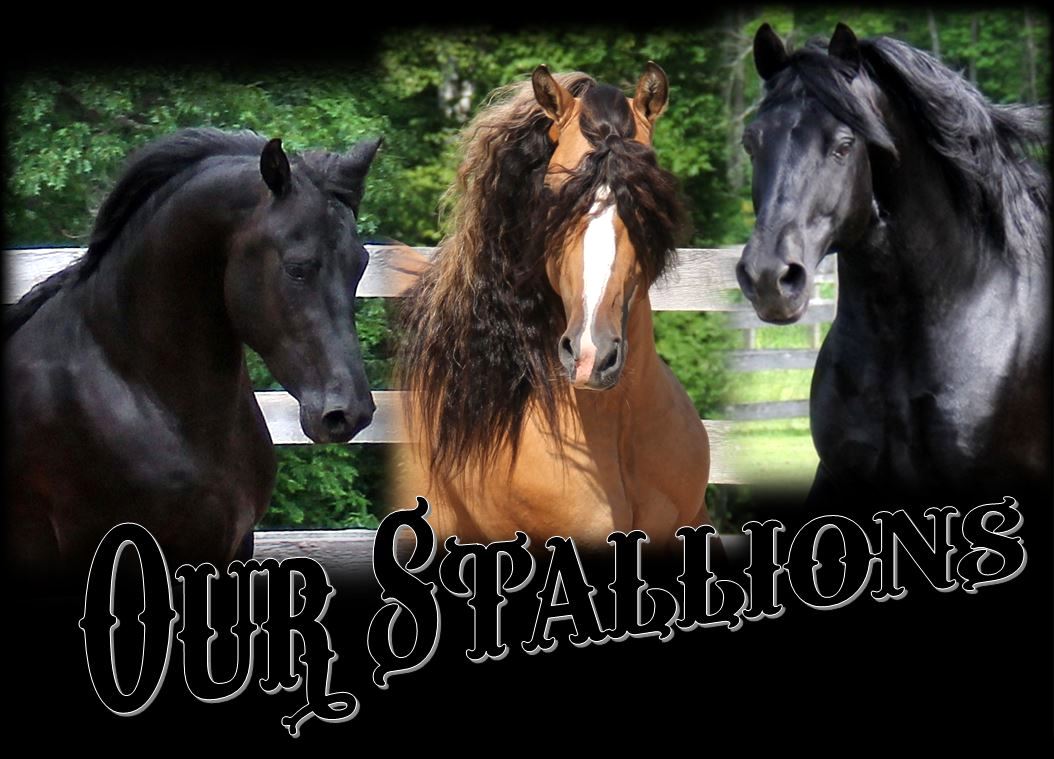 We welcome you to meet the stallions of Rafter Bar D. . . We have selectively chosen our stallions for excellent dispositions, heart and willingness combined with athletic ability, eye catching beauty, and great Morgan type. It is our goal to produce classic black and colorful grulla and dun foals with all the wonderful qualities we love about the Morgan horse. 
"We stand two homozygous black stallions and a homozygous dun stallion.

Click their names to visit their individual pages

."
Maybe you are interested in breeding your mare in the spring, or reserving a foal by one of our stallions. We would love to chat with you about your plans for the future. 
(Irish Entertainment x JMF Beam Along)
2000 Morgan Stallion  ~  15H
Live Cover & Shipped Semen 

(Amberfields Embossedngold x Amberfields Lonesome Dove)
2012 Morgan Stallion  ~  15.3H

+
Live Cover Only
Hello West Coast Friends,
"BLAZE WILL BE VISITING CALIFORNIA AND STANDING AT STUD FOR A FEW MONTHS IN CALIFORNIA TO A LIMITED NUMBER OF MARES!" 
We are headed to CA this fall with Blaze and his son Gabriel! Blaze will spend some time in sunny Califormia servicing some "West Coast Girls!"
This is a "one time only" chance to breed your mare to Blaze if you are out on the west coast. We are teaming up with Jacque White of White Gold Morgans and hosting an OPEN BARN where you can meet Blaze and reserve a breeding for your mare.
Blaze is a 15.3H homozygous bay dun Morgan EE Aa DD and will produce duns, and grulla's no matter what color the mare. If the mare has a creme gene Blaze can also produce dunskin and smokey grulla. He has an excellent temperament, great Morgan type and an elegant athlete. We are breeding to registered Morgan mares only in effort to promote and help the colorful Morgans grow.
OPEN BARN IS OCTOBER 21, 2017 FROM 12:00p.m.- 5:00p.m.
•Meet & Greet Blaze along with Derrick & Sue Olson at White Gold Morgans in Herald, California
•Meet RBD Gift of Gabriel ~ A 2017 Blaze stud colt
•Dr. David Valcheck, DVM will be speaking about breeding your mare with a time for questions and answers
•Booking your mare to Blaze and closing breeding bookings the day of the event
•Stud Fee $800 ~ Mare Care is additional
•Morgan Friends ~ Food ~ Drinks
•RSVP REQUIRED FOR OPEN BARN
E-mail Sue: rafterbardmorganfarm@gmail.com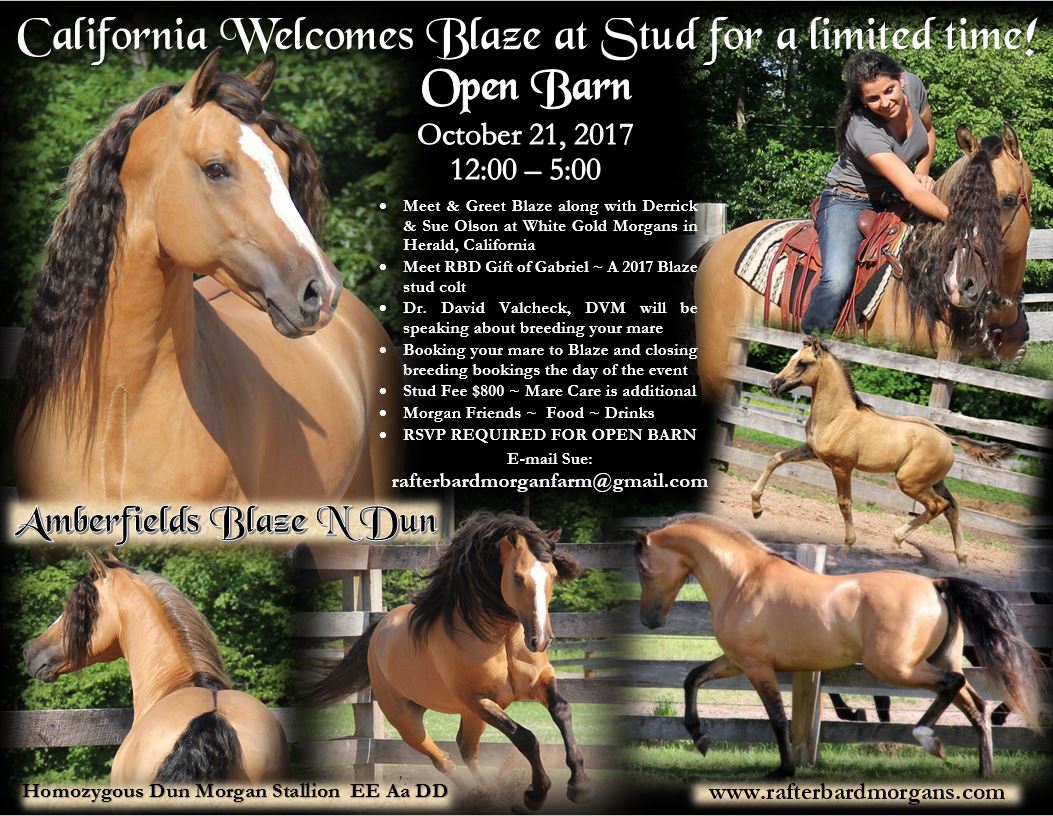 (Immortal Command x RBD Wild Irish Rose)
2014 Morgan Stallion  ~ Expect 15.2H at maturity
Live Cover & Shipped Semen
Thank you for stopping by our stallions page. If you are interested in

reserving a foal

by one of our stallions, or if you have interest in

breeding your mare

, please sent us an e-mail for more information. We would love to hear from you! 


Visitors to Rafter Bar D from around the world!