Hello Friends,
Thank you for your interest in our horses and we hope to meet you one day. 
Happy Trails ~

 
Purebred Friesian Colt For Sale
We purchased Kaspian as a weanling for a stallion prospect for the purpose of breeding Moriesians. What we have come to is some decision making in our breeding program. We are breeding for and raising both Morgans and Moriesians. We currently have 4 stallions and only 4 stallion pens. We have future plans to retain a Blaze son and we are currently looking for a big black Morgan stallion with some neat old bloodlines to bring into our breeding program. In order to move forward with the plans we have for our program, 2 stallions are being offered.
With our Friesian mares that we cross with Blaze for Moriesian foals, and the crosses we can make with Raphael for Moriesian foals, Kaspian is not really going to serve our program like I originally intended. Kaspian could suit your breeding program or make an amazing gelding.  
He is such a beautiful sweet boy with a lot of character, great movement, and the most beautiful head. He has a cool old pedigree with a 0% inbreeding coefficient. He is registered with Friesian Heritage Horse. Photos were taken May 17th and I will be photographing him again soon. Contact Sue at rafterbardmorganfarm@gmail.com to inquire about Kaspian.
Pictured below at 2 years old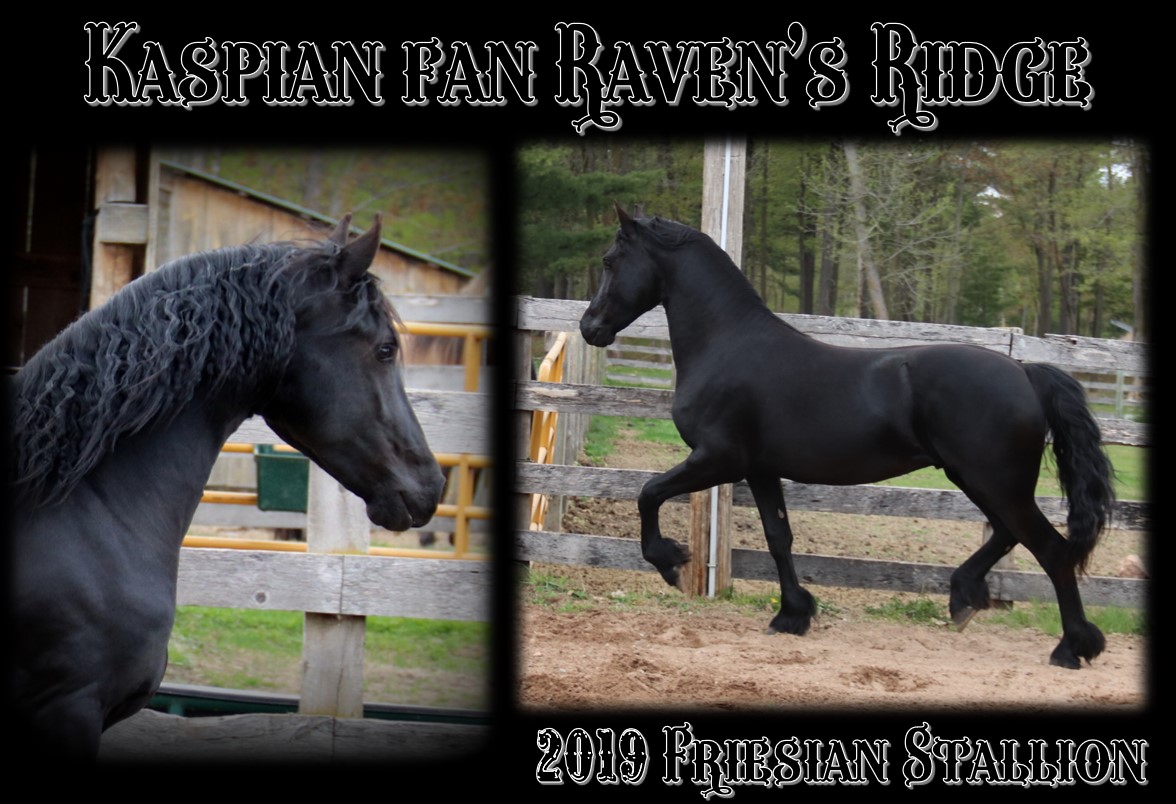 Kaspian fan Raven's Ridge
(Tesla of Sea Chanty Farm by Alert 475 x Izzy by Frans 289)
2019 Purebred Friesian Stallion
Registered with Friesian Heritage Horse
Sire is 16.2H Dam is 15.2H
$12,000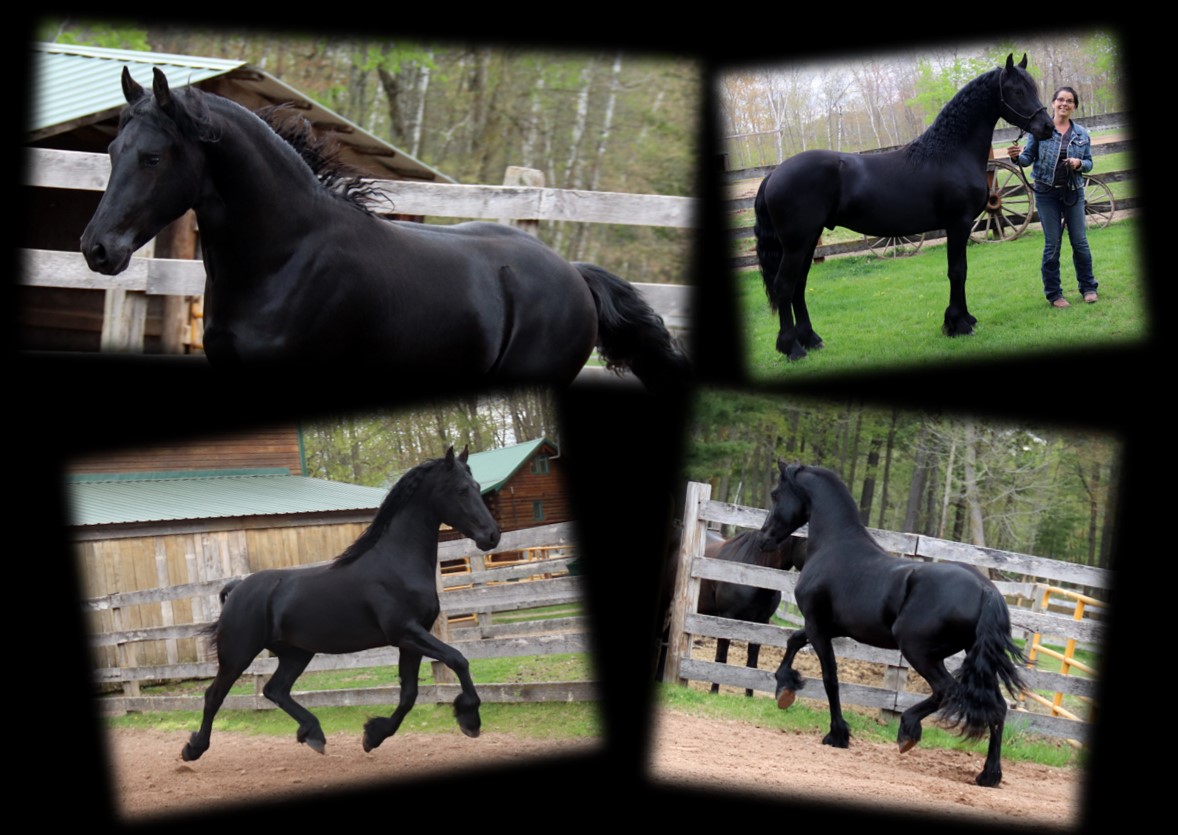 Purebred Morgan Stallion For Sale
Last winter, JMF Rain Maker needed a home asap because of the health issues of his owner. Together, our daughter and son in law, McKayla and Ryley Holden of Bar M Morgans, gave Maker a place to land, a little TLC and he's doing well. We co-own him with Bar M.  He's a neat stallion with a cool pedigree and excellent Morgan type. He's friendly and has only been a breeding stallion.  We bred our Moriesian mare, RBD Callista Dea Dun for a 2022 Moriesian foal and our daughter, McKayla, bred 3 of her Morgan mares, so at 20 years old, this grand fella settled 4 mares. We are looking for a home where Maker can live out his life. He can still raise some beautiful foals and contribute to the breed, he's just smaller than we breed for. Contact Sue at rafterbardmorganfarm@gmail.com to inquire about giving Maker a home. Very reasonable price and negotiable to the perfect home.
Pictured below at 20 years old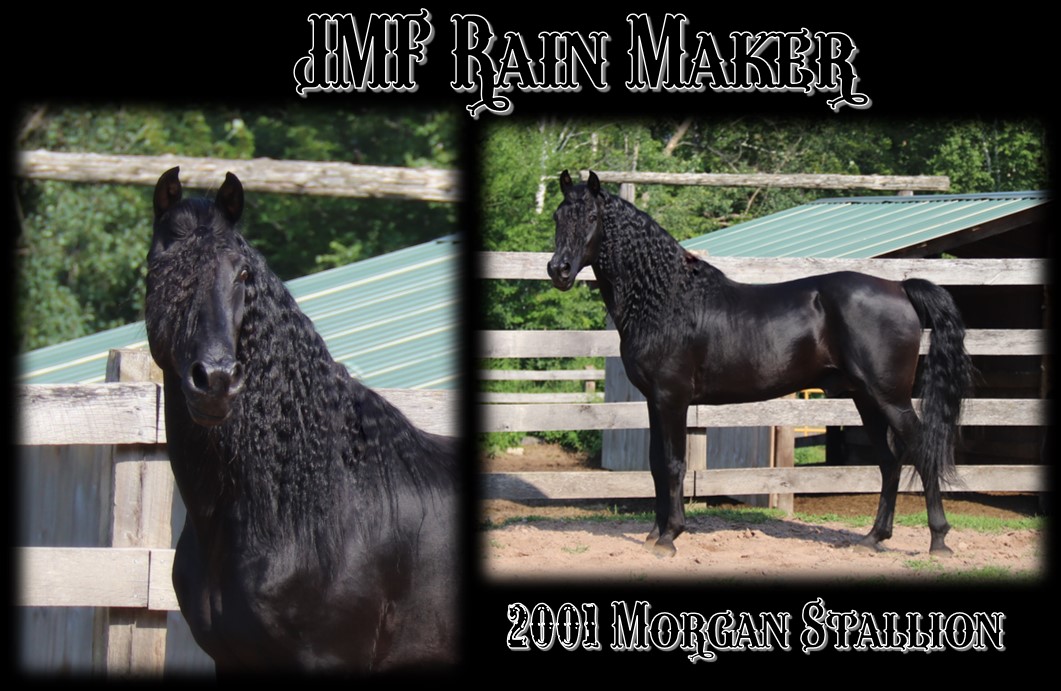 JMF Rain Maker
(Black River Trojan x JMF Royal Desiree)
2001 Morgan Stallion  ~  14.3H