Hello Friends,
Thank you for your interest in our horses and we hope to meet you one day. 
Happy Trails ~

 
Purebred Friesian Gelding For Sale
KASPIAN IS LOOKING FOR HIS SPECIAL PERSON and we are making a trip east next weekend and he's ready to go. 
Kaspian fan Raven's Ridge
(Tesla of Sea Chanty Farm x Izzy by Frans 289)
 May 2019 Purebred Friesian Gelding
Kaspian is registered with Friesian Heritage Horse and Sporthorse International. We purchased him as a weanling for a stallion prospect for the purpose of breeding Moriesians. Sometimes a stallion prospect also makes an amazing gelding. He was gelded about a month ago and is doing great. He's living with one of our bred Friesian mares and his manners are wonderful now. Kaspian is going to make someone an awesome riding or driving partner. He has a great people loving character, loves attention and he has forward beautiful movement. He's calm in nature and not spooked by new things. He likes to be in your bubble and needs a reminder to give space. I think he would crawl in your pocket if he could. His sire is 16.2H and his dam is 15.2H.  ~  $12,000
Photos just taken November 15th, 2021. Kaspian is 2 1/2 years old.
Just a little clip of Kaspian with the flags and noodles. He likes new things and is not worried by much.
With snow and cold and by myself, this clip is not the best, however, you can get the idea of how he moves. He does freely canter which is wonderful as some Friesians seem to prefer trotting.  He of course had to say hi to all the girls. He is currently living with a bred mare after being gelded a month ago and he's doing great. He has very good pasture manners with her. 
Photos below are at 2 years old.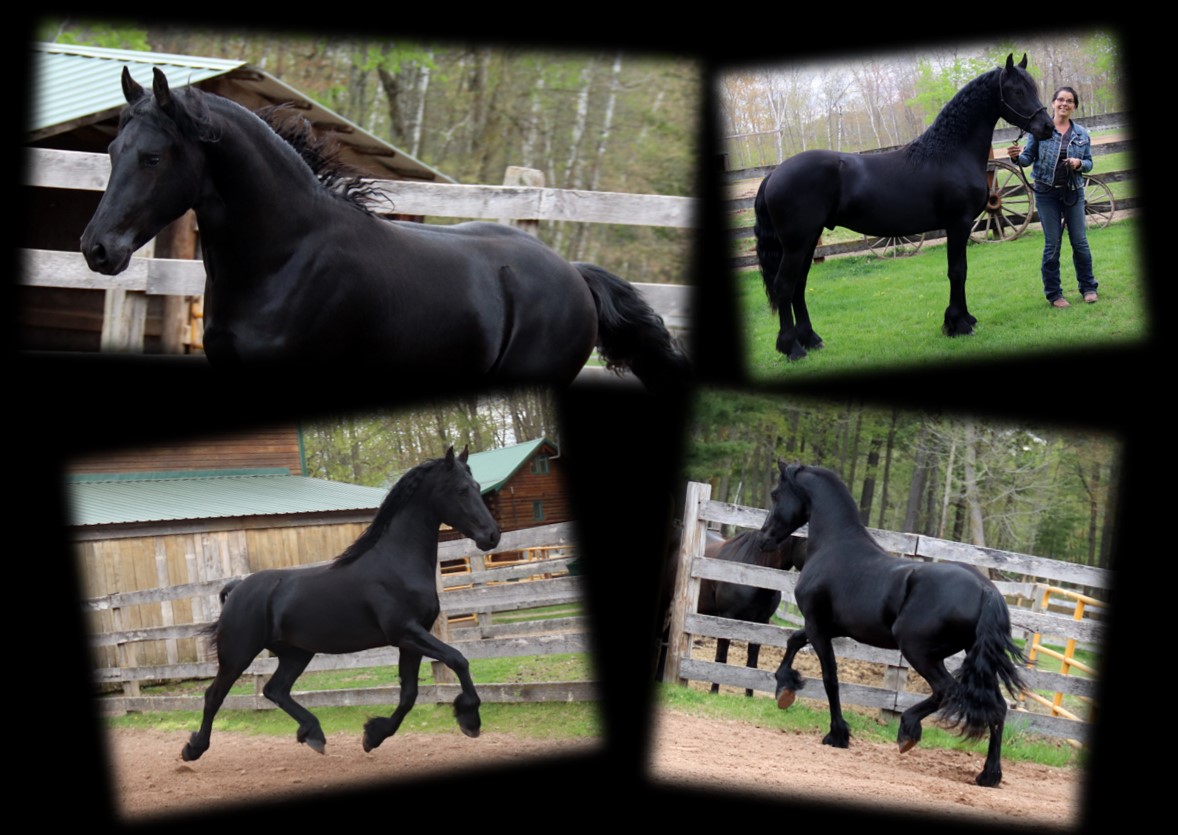 Purebred Friesian Mare For Sale
Tyrza J.
(Anne 340 Sport x Cirse by YK 339)
2006 Purebred Friesian Mare
Tyrza J. is such a lovely baroque style Friesian mare with a sweetheart of a temperament. She loves attention and one of the first to the gate when you come. She has given us several beautiful foals. Unfortunately, last winter she lost her foal at 7 months for an unknown reason. After culturing, flushing and antibiotics she looks good via ultrasound for breeding, however, she has not settled after breeding several times. Our vet sees no reason why she shouldn't settle, however, we are offering her with full disclosure that she is open and may not settle.
We purchased her in 2017 when she was 11 years old and to our knowledge does not have any saddle or driving training. Tyrza has a calm temperament and loves attention. I think she would be real easy to train to ride or drive. She has a wonderful horsenality and will steal your heart. 
She is registered with Fhana  $8500
Contact Sue at rafterbardmorganfarm@gmail.com to inquire more about Tyrza.